<![CDATA[
With a stroke of his pen US President Donald Trump has jeopardised the one agreement – good or bad – that seeks to constrain Iran's nuclear ambitions.
He launched a scathing assault on the deal and its deficiencies. But he offered no alternative policy to put in its place. He has put US diplomacy on a collision course with some of Washington's closest allies. And some fear that he may have brought a new and catastrophic regional war in the Middle East that much closer. The 2015 Iran nuclear deal – or 
JCPOA (Joint Comprehensive Plan of Action)
 to give it its technical name – is not quite dead. But it is most certainly on life support. Much now depends upon how the Iranians respond.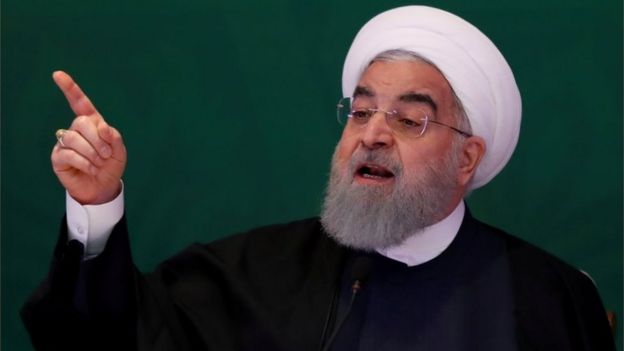 President Hassan Rouhani has been a staunch supporter of the agreement. He appears to want to try to explore with the Europeans and others the possibilities of keeping it alive. But he faces strong internal opposition from hardliners, some of whom want Iran to break out not just from the JCPOA – but from the Nuclear Non-Proliferation Treaty (NPT) altogether. President Trump appears to have cut the ground from under his Iranian counterpart's feet.
An imperfect deal that was working
Let's be clear here what we are talking about. The Iran nuclear deal is undoubtedly controversial. Mr Trump has opposed it consistently, though often it appeared for no other logical reason than that it was the creation of his predecessor in the White House. The deal was not perfect. It did not cover a range of worrying Iranian activities from its missile programme to its regional behaviour. It covered what it covered – Iran's sophisticated and impressive nuclear programme. It imposed a whole range of restrictions on Iran's nuclear activities and introduced a more intrusive verification regime to ensure that Iran was complying with its terms. Some of these restrictions will expire over time. At best you could say the agreement prevented Iran from getting close to a break-out point after which it might dash to get a bomb. At worst you could say that it simply delayed a potential crisis – "kicking the can down the road" as it were. Given that without the JCPOA there was a real risk of a war between Israel and Iran this might not have been such a bad thing. The inconvenient truth for Donald Trump is that, as far as it goes, the nuclear deal was working. All the other countries who signed up to the agreement believe that Iran is in full compliance with its terms. So does the International Atomic Energy Agency (IAEA). So, too, do key members of the Trump administration itself, not least the new Secretary of State Mike Pompeo and the Director of National Intelligence Dan Coats. Despite this, Mr Trump presented the JCPOA in stark and frankly erroneous terms. He largely condemned it for leaving out things that it was never supposed to cover in the first place. So where do we go from here?
Dangerous path ahead
A battle will now be under way in Tehran, and who wins out will determine if the agreement can be saved. If the so-called moderates prevail then the Europeans will have a crucial role to play. For what is at stake here is not US sanctions against Iran as such, but so-called "secondary sanctions" – that is sanctions against foreign i.e. non-US companies that may be dealing with Tehran.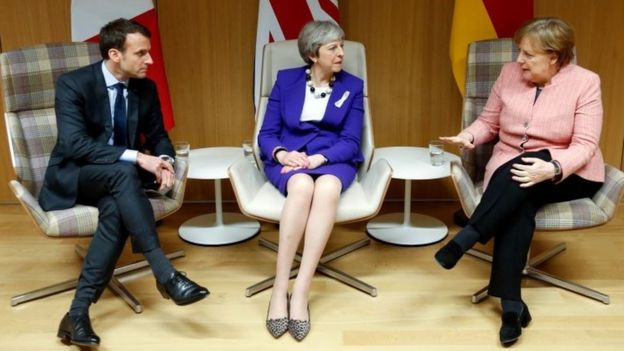 The Europeans are clearly dismayed by President Trump's announcement. They seem ready to stick with the deal. There will be significant delays before they – or more correctly European companies – are likely to face the wrath of the US treasury department's sanctions machine. This could provide time for some gathering of thoughts and diplomatic efforts to explore how much latitude there may be in the US position, if any. But we are in an unprecedented situation with potentially dangerous consequences. If the Iran deal does collapse and Iran were to ramp up its nuclear activities, what then? With the US, the Europeans and Nato increasingly worried about Russia's more assertive stance, is this really the moment for a serious trans-Atlantic rift? And then there is the war-scarred Middle East itself. Iran and Israel are already engaged in preliminary skirmishes in Syria that risk an all-out confrontation. Iran is smarting from a number of air attacks against its facilities and allies. It is already eager for revenge. Israeli Prime Minister Benjamin Netanyahu has been the major cheer-leader urging Mr Trump to abandon the nuclear deal. (This despite most former senior Israeli intelligence and military figures – and even some current ones – believing that the deal, for all its faults, has some value).
Where is the Plan B?
Part of the rationale for the nuclear deal was to keep Iran a respectable distance away from having a bomb. This would give sufficient time for international pressure to be applied if it looked like breaking out from the constraints. But if the JCPOA unravels and Iran steps up its nuclear activities what then? The risk of an Iranian break-out and dash for a bomb could encourage other countries – not least Saudi Arabia – to go nuclear too. We are living in extraordinary times and this decision – some 18 months or so in office – perhaps marks the start of the real Donald Trump foreign policy: one that many critics would say is based upon raw emotion, a gut-feeling, but certainly not on empirical fact. Even those who agree with Mr Trump's actions are left with fundamental questions to answer. Where is the "Plan B"? How is Iran now to be contained? And how is an international consensus to be maintained to further this goal?
Source: BBC
]]>