Yevgeny Prigozhin calls it his "March of Justice". Vladimir Putin says it is a "criminal escapade" and an "armed mutiny". One senior Russian commander has called it "a coup".
Whatever you call it, the Wagner chief has gone for broke to try to topple Russia's military leadership.
This had been brewing. For months there has been very public infighting between Wagner and Russia's ministry of defence over how the war in Ukraine has been fought.
Wagner had repeatedly accused the ministry of failing to supply the mercenary group with sufficient ammunition (and doing that on purpose.)
Prigozhin had been increasingly vocal in his criticism of Defence Minister Sergei Shoigu and Chief of the General Staff Valery Gerasimov.
Criticising is one thing. Armed confrontation is another.
Prigozhin claims the defence ministry started it, though, with a missile strike on Friday on a Wagner base camp. The Russian authorities deny that ever happened. They call that story "an information provocation".
A coup or something else?
If this is an attempted coup, then it is not a traditional one.
In his rants on social media, Prigozhin has been careful not to criticise President Putin or the Russian government.
He has always emphasised that his beef is with the military leadership, not with the Kremlin.
But that is of little consolation to President Putin. An armed insurrection by a private Russian army (especially one that is supposed to be fighting on your side) does not exactly reflect well on the man at the top – the president and commander-in-chief.
Which is why Vladimir Putin needed to make that address to the nation on Saturday morning – to convince Russians he is still in control.
From the sound of things, there will be no quiet Kremlin chat with Prigozhin to calm him down.
President Putin's speech was packed with references to "betrayal" and Russia having been "stabbed in the back."
He promised a "tough response".
Easy to say. Much harder to do.
President Putin will almost certainly enjoy the support of senior Russian commanders. Some have already gone public with their condemnation of Prigozhin's actions.
What's less clear is the current mood in the lower ranks of the army. To what extent have Prigozhin's criticisms of military chiefs struck a chord there?
Watching the president making his TV address, I had a strong feeling of déjà vu.
I remembered the dramatic speech he made exactly 16 months ago when he announced the start of his "special military operation" – the full-scale invasion of Ukraine.
It was a very different Vladimir Putin back then.
He seemed supremely confident of victory.
That was an operation the Russian authorities expected to be over in days, a few weeks maximum.
But it did not go at all according to plan. Russia's war not only led to death and destruction on a large scale in Ukraine. It sparked instability within Russia itself.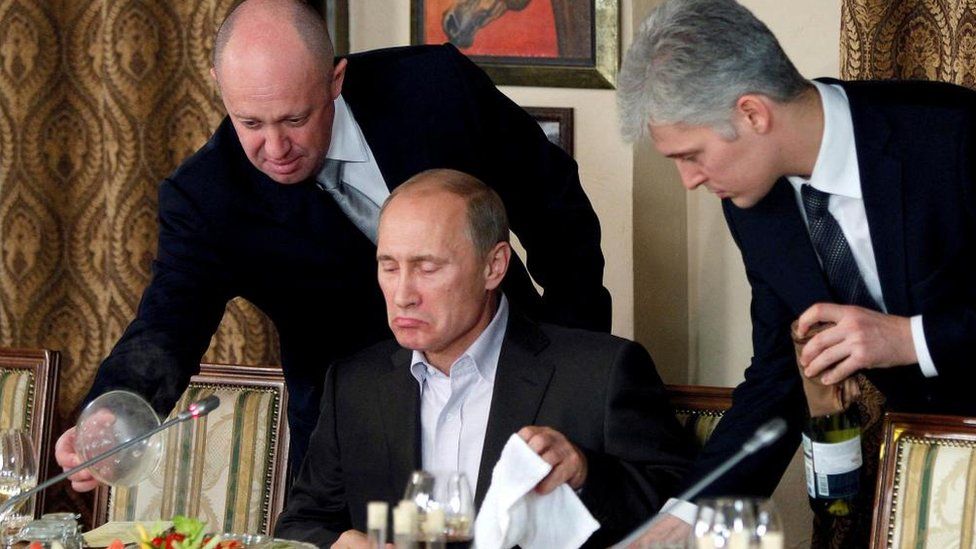 And that has led to the dramatic events we are witnessing now with Prigozhin and his Wagner fighters.
It creates another huge headache for the Kremlin.
Not only is President Putin fighting a war in Ukraine.
He now has to deal with a mutiny at home.