Russian Foreign Minister Sergei Lavrov said a reported chemical attack in Syria was staged by foreign agents.
The US and France have said they have proof it took place, and, alongside the UK, they are considering launching military retaliation against Syria.
Russia, a Syrian ally, has warned the US that air strikes risk a new war.
Independent chemical weapons inspectors are en route to the Eastern Ghouta area to look for evidence. They are expected to arrive on Saturday.
During a press briefing on Friday, Mr Lavrov said he had "irrefutable evidence" that the attack was staged as part of a "Russophobic campaign" led by one country, which he did not name.
Russia has requested a United Nations meeting in New York later in the day, but this has not yet been confirmed.
The White House says it is continuing to assess intelligence and talk to its allies on how to respond.
The delegation from the Organisation for the Prohibition of Chemical Weapons (OPCW) will start its investigations on Saturday, but, to ensure their safety, few details are expected to be released about their movements.
Why is the West considering military action?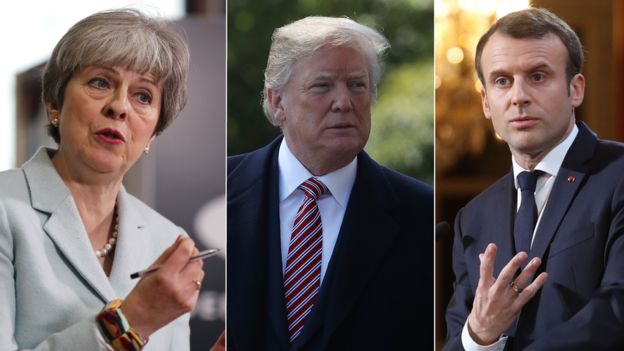 The call for action comes after a suspected chemical attack on the rebel-held town of Douma in the Eastern Ghouta on Saturday, which killed dozens of people, according to opposition activists, rescue workers and medics.
Chemical weapons attacks are suspected to have taken place in Syria before. Last year, the US launched a retaliatory strike after one was said to have taken place in Khan Sheikhoun.
President Bashar al-Assad's government – which receives military backing from Russia – has denied involvement in any chemical attack, calling the reports "fabricated".
After six weeks of heavy fighting and an estimated 1,700 civilian deaths in the Eastern Ghouta region, the Syrian government is now said to have control of the area, which lies just outside Damascus.
The final evacuations of about 4,000 remaining Islamist fighters and civilians continued on Friday, according to the UK-based Syrian Observatory for Human Rights monitoring organisation.
Is there proof of the recent 'chemical attack'?
The Violations Documentation Center (VDC), which records alleged violations of international law in Syria, said bodies were found foaming at the mouth, and with discoloured skin and burns to the eyes.
On Thursday, unnamed US officials said they had blood and urine samples from victims which had tested positive for chlorine and a nerve agent, according to NBC News.
The US ambassador to the UN, Nikki Hayley, told the network: "We definitely have enough proof, but now we just have to be thoughtful in our action."
French President Emmanuel Macron also said he had "proof" that the Syrian government had attacked Douma with chemical weapons, without giving further details.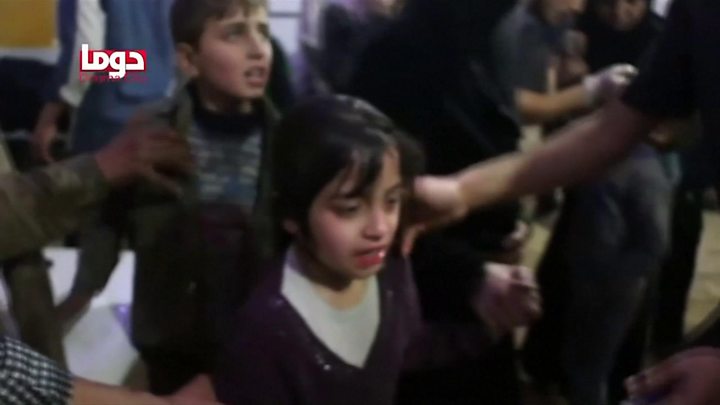 In the UK, cabinet ministers agreed that it was "highly likely" the Assad regime was responsible for the alleged attack and said the use of chemical weapons must not "go unchallenged".
During a phone call late on Thursday, UK Prime Minister Theresa May and US President Donald Trump agreed on the need to deter chemical weapon use in Syria.
They agreed to "keep working closely" on the issue, Mrs May's office said in a statement.
What has Trump said about the attack?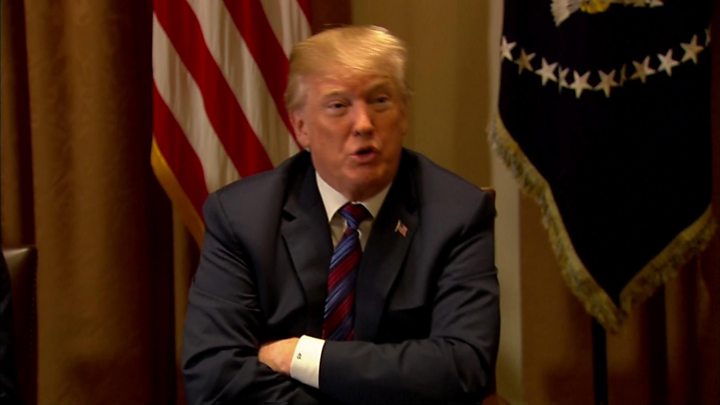 On Sunday, the day after the attack, the US president said Russian President Vladimir Putin bore responsibility for the "atrocity" in rebel-held Douma, because of his support for the Syrian government.
Mr Trump, who has cancelled a planned trip abroad, has been canvassing support for strikes from the leaders of France and the UK.
On Wednesday he said the missiles were "coming", but on Thursday he tweeted that he had "never said when". It "could be very soon or not so soon at all", he said.
He later told reporters at the White House: "We're having a meeting today on Syria… We have to make some further decisions. So they'll be made fairly soon."
Also on Thursday, US Secretary of Defence Jim Mattis told a congressional panel: "I believe there was a chemical attack and we are looking for the actual evidence."
What is Russia's position?
Russia has described the reports of a chemical attack as a "provocation" designed to justify Western intervention.
"The immediate priority is to avert the danger of war," Moscow's UN ambassador Vassily Nebenzia said on Thursday.
He accused Washington of putting international peace at risk and said the situation was "very dangerous".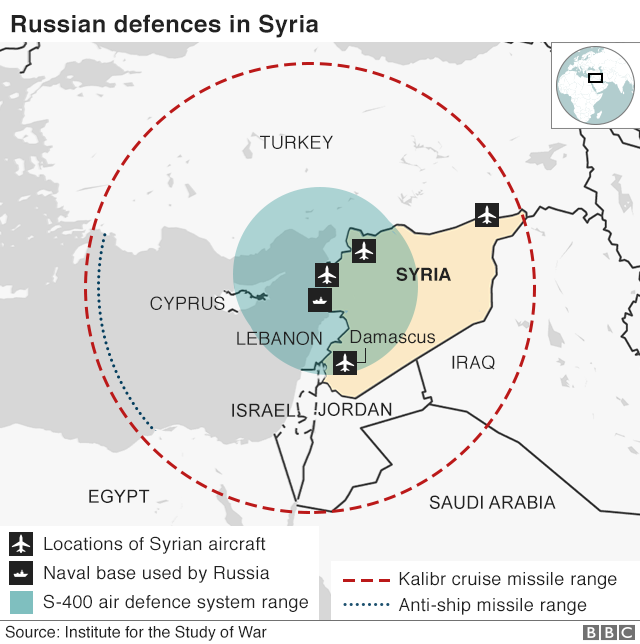 Senior Russian figures, including the head of the military, have warned that US missiles will be shot down and their launch sites targeted if Russian personnel come under threat.
On Friday, Deputy Prime Minister Arkady Dvorkovich criticised Mr Trump's rhetoric.
"We cannot depend on the mood of someone on the other side of the ocean when he wakes up," the Tass news agency quoted him as saying.