<![CDATA[
Between eight and 10 people have been killed in a shooting by a student at a Texas high school, say police.
Harris County Sheriff Ed Gonzalez told reporters the majority of the dead at Santa Fe High School were students. The suspect in custody has been identified as 17-year-old Dimitrios Pagourtzis, according to CBS News. Police said that explosive devices had been found at the school, which is 40 miles (65km) south of Houston, and in surrounding areas.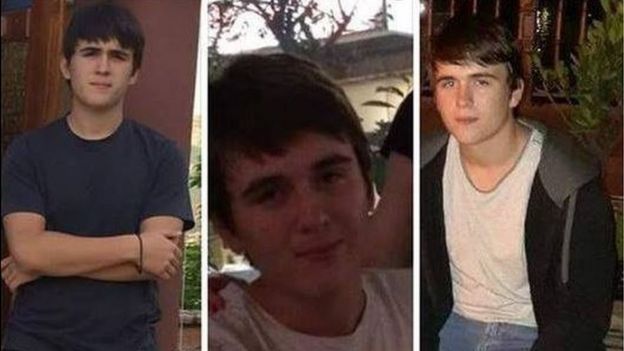 Santa Fe Police Chief Jeff Powell said: "There have been explosive devices found inside the high school, and in the surrounding areas adjacent to the high school."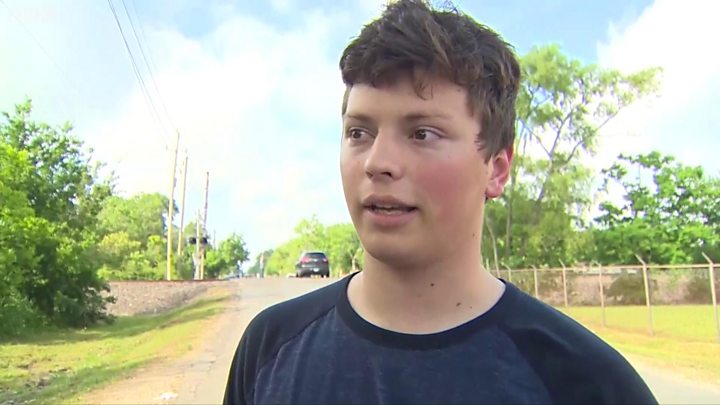 He advised residents to be aware of any suspicious objects they find. "Do not touch any items that look out of place," he said, warning residents to immediately call police. Santa Fe school police officer John Barnes has been named among the injured. Mr Barnes is currently in critical condition and undergoing surgery, according to local media.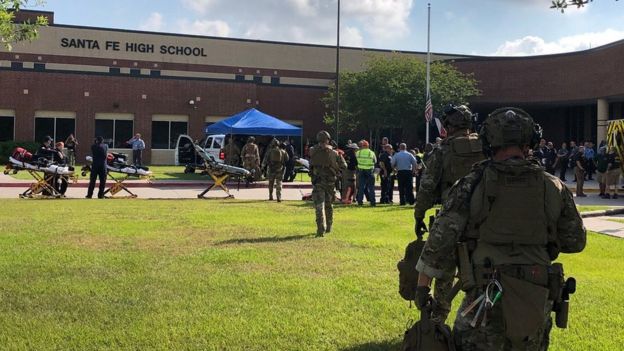 Two hospitals south of Houston said they had received nine patients from the school shooting. Clear Lake Regional Medical Center said it admitted seven, and Mainland Medical Center received two.
How the attack unfolded
Several students described hearing a fire alarm go off shortly before 08:00 local time. A student told local network KHOU-11 that a teacher who realised what was happening "ran out of the classroom and he pulled the fire alarm" to "get the rest of the school out". One witness told KTRK-TV the shooting happened in her art class, and that one of the victims was a girl. "There was someone that walked in with a shotgun and started shooting," the student said, "and this girl got shot in the leg." She said that she did not get a look at the shooter, because she ran to hide. Police have yet to confirm what type of firearm was used in the attack. One 10th grader told networks she had an asthma attack while hiding in the woods. News helicopters filmed students emptying their backpacks in front of armed officers in a field outside the school. A bomb squad was at the scene, and several helicopter ambulances flew victims to hospital. Federal officials with the Bureau of Alcohol, Tobacco, Firearms and Explosives (ATF) are helping the investigation.
What's the reaction been?
School superintendent Dr Leigh Wall said in a statement: "We experienced an unthinkable tragedy at our high school this morning." President Donald Trump, speaking at a prison reform event at the White House, described the attack as "absolutely horrific". "My administration is determined to do everything in our power to protect our students, secure our schools, and to keep weapons out of the hands of those who pose a threat to themselves, and to others," he added.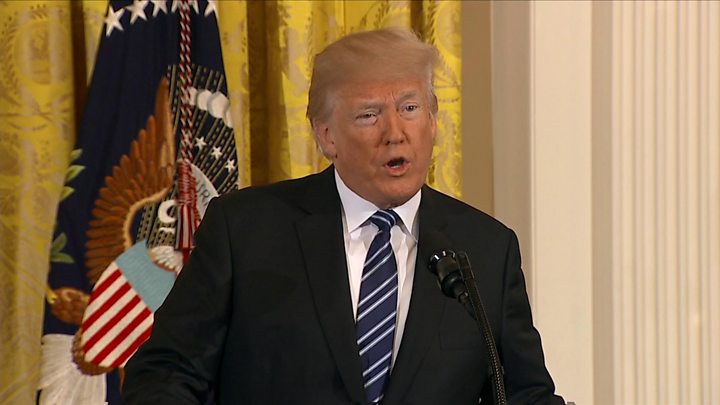 Two weeks ago, Mr Trump reiterated his call to arm teachers with guns during a speech in Dallas to the National Rifle Association (NRA). First Lady Melania Trump tweeted: "My heart goes out of Santa Fe and all of Texas today." Shortly after the shooting began in the town of about 13,000 residents, a man carrying an American flag, wearing a Trump hat, and carrying a pistol on his hip approached news cameras.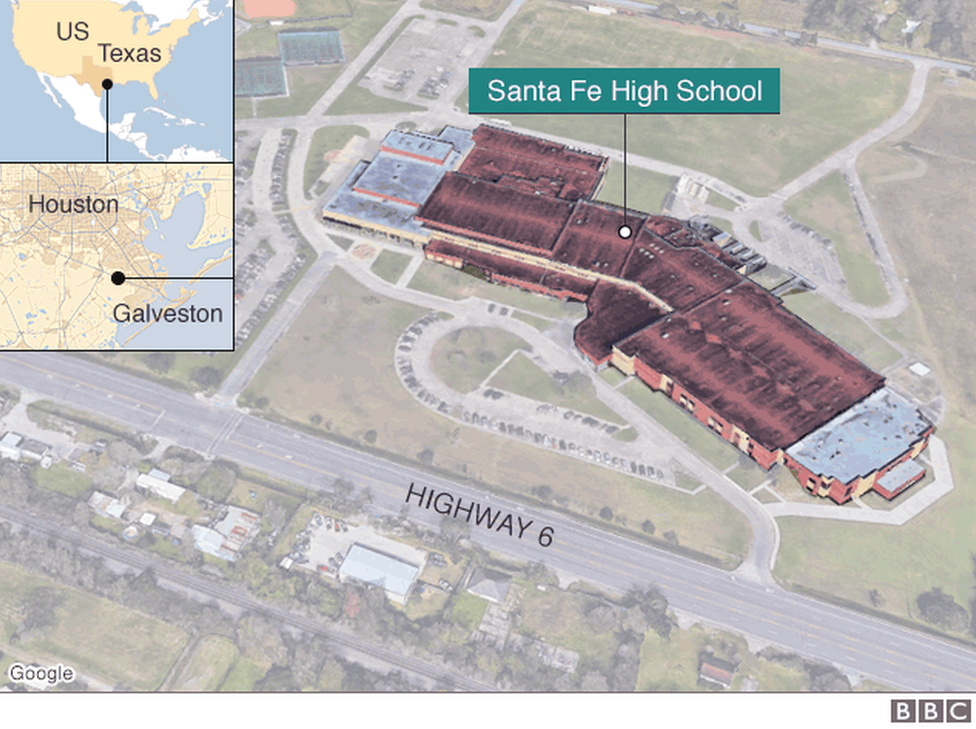 The man, who did not give his name, said his goal was to "get to the school. Make America great again". Another man then told reporters "we need prayers". "This idiot is walking down the street with a damned pistol on his side where we just had kids get shot," he said referring to the other man. "I'm a guns rights person. I have guns. But this idiot is walking down here and saying he needs to make America great again. That's not what America needs."
How do previous school shootings compare?
The Texas attack is the deadliest school shooting since the one in February at Parkland, Florida. That attack left 17 dead and spawned a nationwide youth-led campaign for gun control. Earlier this week, 
a police officer was able to stop a former student who opened fire at an Illinois high school
 before anyone was injured.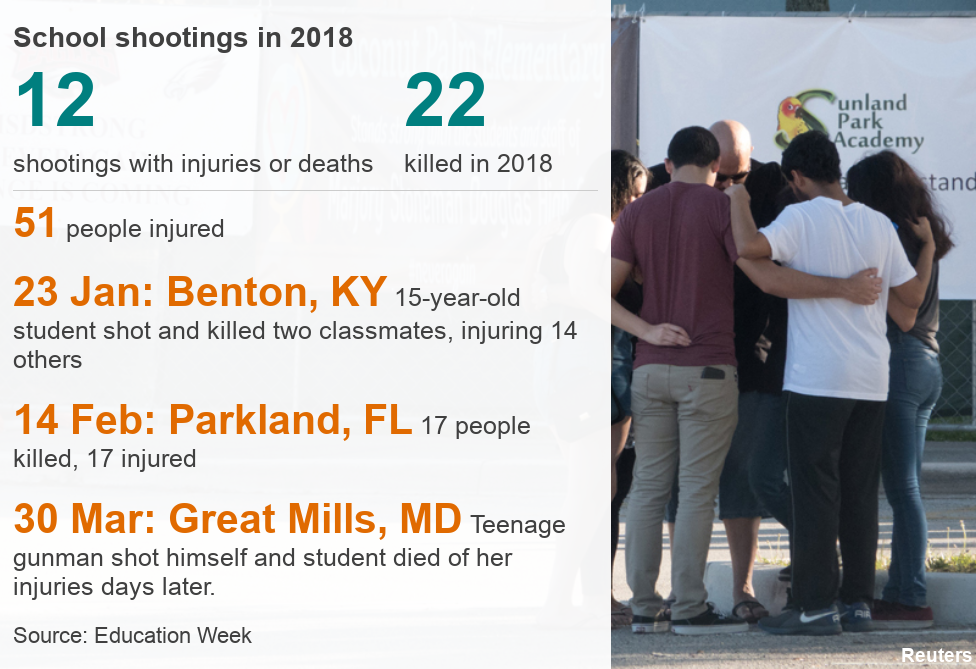 Source: BBC
]]>