<![CDATA[
[caption id="attachment_88298" align="aligncenter" width="660"]
Sudanese forces fighting along the Saudi-led coalition had been gathering outside the port city pic: EPA[/caption]
Saudi-backed government forces have begun an assault on the key Yemeni port of Hudaydah, which is held by rebels.
The port is the main point of entry for aid for people in rebel-held areas and agencies have warned of a humanitarian catastrophe if it is attacked. About eight million people in the war-torn country are at risk of starvation. Bombing started after Iranian-backed Houthi rebels ignored a deadline set by the government to withdraw by midnight (21:00 GMT on Tuesday).
How are operations unfolding?
On Tuesday, the exiled government of President Abdrabbuh Mansour Hadi said efforts to persuade the rebels to withdraw had been exhausted. The Saudi-owned Al Arabiya network reported early on Wednesday that the "liberation" of Hudaydah had begun with a large-scale ground assault supported by air and naval cover from a Saudi-led multinational coalition. Coalition warplanes and warships carried out strikes against rebel positions around the city. "The liberation of Hudaydah port is a turning point in our struggle to recapture Yemen from the militias that hijacked it to serve foreign agendas," a government statement said.
Why is city being targeted?
The Saudi-led coalition has accused the rebels of using Hudaydah to smuggle in Iranian weapons. Both Iran and the rebels deny this. The UN had been trying to get parties to the conflict to reach a deal that would avert an attack on the city. An estimated 600,000 people live in the area. On Friday, the UN Humanitarian Co-ordinator for Yemen Lise Grande warned: "In a prolonged worst case, we fear that as many as 250,000 people may lose everything – even their lives." The Saudi-led coalition intervened in the civil war in Yemen in March 2015 as forces loyal to President Hadi battled the Houthi movement, which champions Yemen's Zaidi Shia Muslim minority. Since then, more than 6,385 civilians have been killed and 10,000 others injured, according to the UN. The vast majority of those casualties have been the result of coalition air strikes. The fighting and a partial blockade by the coalition has also left 22 million people in need of humanitarian aid, created the world's largest food security emergency, and led to a cholera outbreak that is thought to have affected a million people.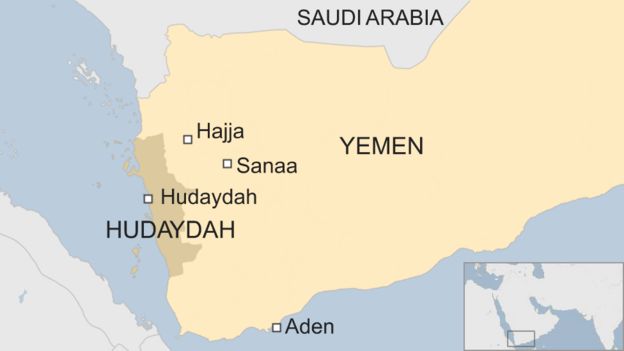 ]]>