<![CDATA[[caption id="attachment_79304" align="aligncenter" width="660"]
A high-level official, thought to be North Korea's leader, is now in Beijing Photo: AFP[/caption]
There is widespread speculation that a senior North Korean official who made a surprise day-long visit to Beijing was Supreme Leader Kim Jong-un.
Japanese media outlets first reported that a high-profile figure had arrived via a North Korean diplomatic train and was met with tight security. South Korea said it did not know the official's identity, but that it was trying to verify the situation. It would be Mr Kim's first foreign visit since taking office in 2011. There has been no official comment from North Korea, while China's foreign ministry said it had "no information for the moment", but more would "be published in due course".
Why does this matter?
A visit by Mr Kim to Beijing would be seen as a significant development. Last month, US President Donald Trump accepted an unprecedented invitation to meet Mr Kim, and officials are believed to be working behind the scenes to work out the complex diplomatic requirements. Analysts have said the North Korean and Chinese leaders would be likely to meet before that summit goes ahead. China is North Korea's main economic ally.
What do we know about the visit?
Japanese media reported on the train's arrival into Beijing on Monday evening. Footage of the train from the Tokyo-based Nippon News Network showed a green carriage with yellow horizontal lines. People in Beijing described seeing "unusual" scenes, including tightened security outside the train station, and tourists being ushered out of the capital's Tiananmen Square, which usually signals a high-level meeting in the Great Hall of the People there.
Bloomberg cited three unnamed sources
 as saying the visitor was Mr Kim.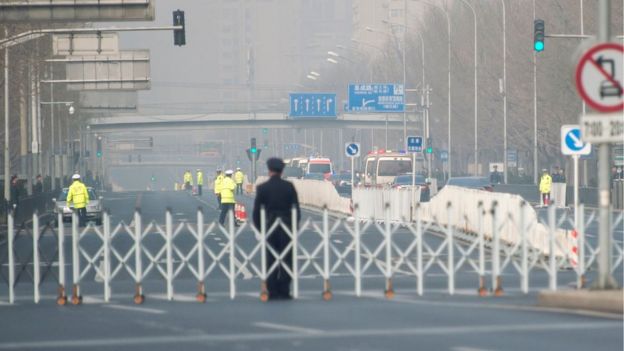 But analysts speaking to South Korea's Yonhap news said the official could also be Mr Kim's younger sister Kim Yo-jong, who recently made an appearance at the Winter Olympics in South Korea, or military official Choe Ryong-hae. "We have not confirmed yet who has travelled to Beijing," said an official from the presidential office in Seoul. "We are carefully watching the situation… with all possibilities in mind." At the Chinese border city of Dandong, the main railway link between China and North Korea, similarly unusual scenes were also seen. Specialist North Korean news website 
NK News (paywall) said it had obtained pictures
 showing temporary boards blocking one entrance – though it said this may have been for construction work. The train, believed to be carrying the North Korean delegation, pulled out of Beijing on Tuesday afternoon, although it is not clear where it is headed next. It is not clear when North Korean or Chinese officials will release more details about the visit. Mr Kim's late father and predecessor Kim Jong-il had also made trips abroad by train, but these were often not confirmed until after the visits were over.
What do we know about the train?
Japanese media say the green and yellow train resembles the one used by Kim Jong-il when he visited China and Russia in 2011.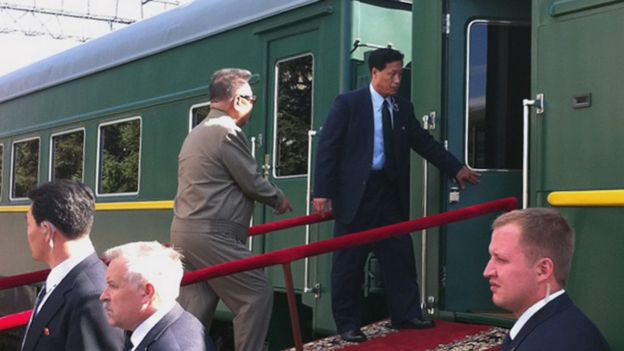 South Korean daily Chosun Ibo has previously reported that Kim Jong-Il's armoured train featured about 90 carriages, and contained conference rooms, an audience chamber and bedrooms, with satellite phones and televisions installed for briefings. According to reports, Kim Jong-il had several private trains, and, while travelling by train across Russia, had live lobsters air-lifted to the train each day. Kim Jong-il and his father Kim Il-sung favoured trains to flights when visiting China and Russia, often attributed to a reported fear of heights, BBC Monitoring reports. However, Kim Jong-un did sometimes travel by air before he became leader.
What could happen next?
There has been a flurry of diplomatic activity in recent weeks since ties between North and South Korea began improving at the start of this year. Earlier in March, North Korea's foreign minister attended talks in Stockholm with Sweden's Prime Minister Stefan Liven, ahead of the as yet unarranged meeting between Mr Trump and Mr Kim.
The landmark US summit has been earmarked for May
. It would be the first meeting between leaders of the US and North Korea.
Mr Kim is also set to meet his South Korean counterpart, 
Moon Jae-in, next month.
Source: BBC
]]>