<![CDATA[
The operation to free 12 boys and their coach trapped in a cave in northern Thailand is running "smoothly", the head of the operation says.
Four boys have been brought above ground so far in good health, rescuers say. The mission has now been paused for at least 10 hours as air tanks need to be replaced. Rescuers decided to go ahead with the hazardous operation on Sunday because of fears of rising waters. The next phase would begin on Monday morning, after relaying "all of the air tanks and all systems along the way", Chiang Rai Governor Narongsak Osottanakorn said. He corrected earlier reports that said six boys had been freed. Divers have been guiding the boys through darkness and submerged passageways towards the mouth of the Tham Luang cave system. They have reportedly been able to make the last part on foot. Rescuers took advantage of a break in the rain to launch the mission much earlier than originally expected. The first phase has also been conducted much faster than officials had predicted. The group and their families had all given their agreement that they should be moved as soon as possible, said Mr Narongsak.
What is happening at the cave?
A team of 90 expert divers – 40 from Thailand and 50 from overseas – has been working in the cave system.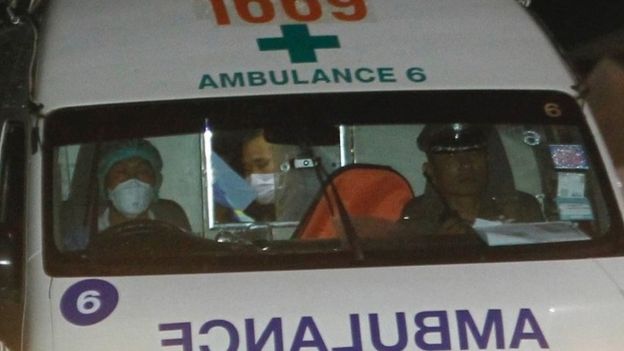 The BBC's Dan Johnson, who is at the scene, said doctors went to assess the boys on Saturday and decided on a priority list, sending the weakest out first.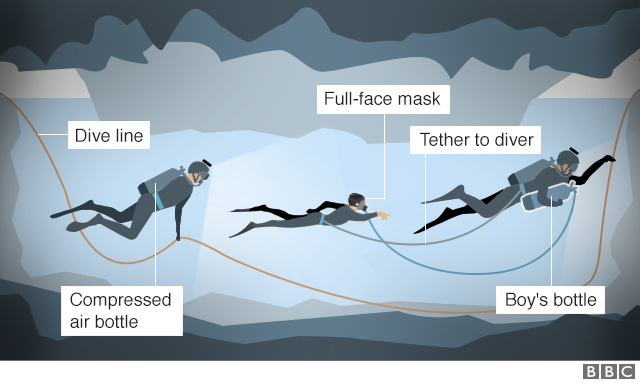 The toughest section is about halfway out at a section named "T-Junction", which is so tight the divers have to take off their air tanks to get through. Beyond that a cavern – called Chamber 3 – has been turned into a forward base for the divers. There the boys can rest before making the last, easier walk out to the entrance. They are then taken to hospital in Chiang Rai.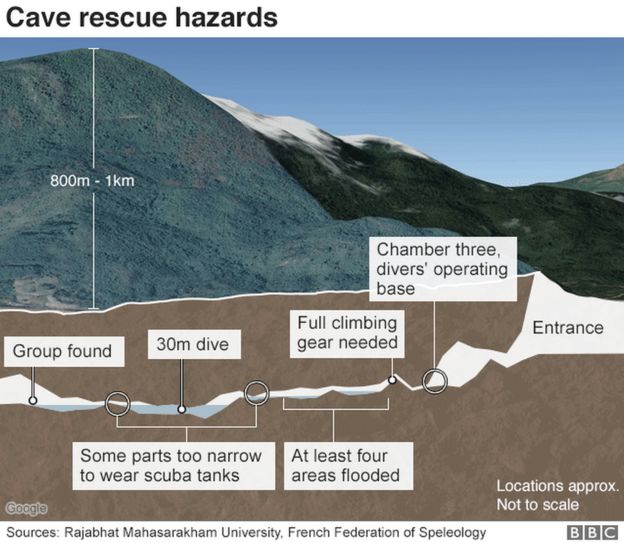 In an indication of how dangerous the journey can be, a former Thai navy diver died in the caves earlier this week. Saman Gunan was returning from a mission to provide the group with air tanks. He lost consciousness and could not be revived. His colleagues said they would "not let the sacrifice of our friend go to waste".

Sense of remaining unease
BBC's Nick Beake at the scene
This is a hugely high-profile rescue attempt and Thailand knows the world is watching. It has embarked on a dangerous option but believes it's the best for bringing the group out alive. It has assembled a team of internationally renowned divers and so far their expertise has brought four boys – thought to be the weakest – back to their families. But the relief of those mums and dads will be tempered by the knowledge that nine other families face an anxious wait for the turn of their loved ones to be shepherded through the narrow and murky corridors of the Tham Luang cave complex. As one diving expert put it to me, when underwater cave rescues go wrong they go wrong in a big way. So despite this promising start, there is a sense of unease here in Chiang Mai. But the overriding impression from the rescuers is a clear focus and unshakable resolve to finish the job.

Who are the boys and their coach?
Chanin Vibulrungruang, 11 (Nickname: Titan) – started playing football aged seven
Panumas Sangdee, 13 (Nickname: Mig), wrote to his parents: "The Navy Seals are taking good care of me"
Duganpet Promtep, 13 (Nickname: Dom) – captain of the Wild Boars, reportedly scouted by several Thai professional clubs
Somepong Jaiwong, 13 (nickname: Pong) – reportedly dreams of playing for the Thai national team
Mongkol Booneiam, 13 (nickname: Mark) – described by his teacher as a "very respectful and good child"
Nattawut Takamrong, 14 (nickname: Tern) – told his parents not to worry about him
Ekarat Wongsukchan, 14 (nickname: Bew) – promised his mother he would help her at the shop once he was rescued
Adul Sam-on, 14 – member of a volleyball team that came second in the North Thailand-wide tournament
Prajak Sutham, 15 (nickname: Note) – described by family friends as a "smart, quiet guy"
Pipat Pho, 15 (nickname: Nick) – wrote in his letter he wanted his parents to take him for barbecued food once rescued
Pornchai Kamluang, 16 (nickname: Tee) – told his parents "don't worry, I'm very happy"
Peerapat Sompiangjai, 17 (nickname: Night) – it was his birthday the day the boys went missing, and his parents have told him they are still waiting to hold his birthday party
Assistant coach Ekapol Chantawong (nickname Ake), 25 – apologised in his letter to the parents, but they replied that they did not blame him
How did the group get there?
The boys were found inside the cave by British rescue divers on Monday, about 4km (2.5 miles) from the cave mouth. Aged between 11 and 17, they belong to a football club called the Wild Boars, and became trapped during an excursion with their coach. It took nine days to find them in the underground network's dark depths.
Race against the rain
Officials had originally thought the group might have to stay where they were until the rainy season ended – and that could have meant months underground. They had also been exploring whether they could drill down into the cave, as well as scouring the mountainside for another way in. But with the rainy season just beginning, it has become clear that the flooding which originally trapped the boys will only get worse in the coming days.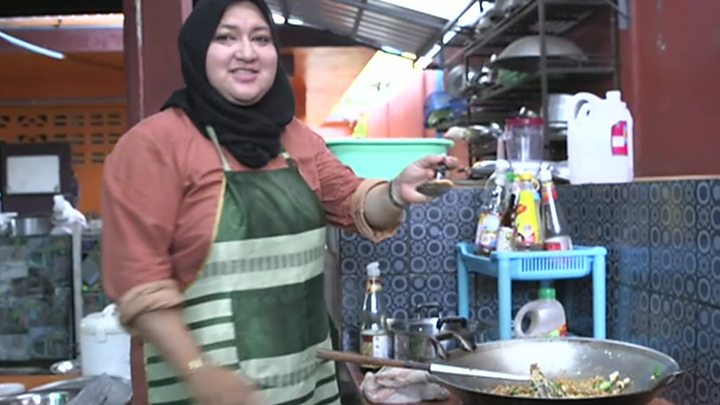 Rescuers have been desperately pumping water out of the cave, and Mr Narongsak said on Sunday that water levels inside were at their lowest levels so far. "There is no other day that we are more ready than today," he said.
Source: BBC
]]>