Residents in and around Amamamo at Elubo in the Jomoro Constituency of the Western Region have now heaved a sigh of relief after their dilapidated wooden bridge was reconstructed and commissioned by the Member of Parliament, Dorcas Affo-Toffey.
The state of the bridge was a great worry to residents, chiefs and elders, and all who commute through the area since it was a death trap.
The bridge has been a main access route for people living around that area.
However, its state posed a danger to the residents who walk on it.
It was more dangerous for pregnant women and the sick, especially when it rains since the wooden structure was not of good quality to commute on.
However, upon a timely intervention by the MP, Dorcas Affo-Toffey, the construction of a major bridge on that stretch is completed and commissioned.
The Chief of Elubo, Nana Kesse Panyin III, explained that the bridge had been their headache before the Jomoro MP took office.
He said 'some people' came to construct the bridge but the only thing they did was to place a coconut tree on the bridge which was later washed away by the rains.
Nana Panyin III expressed shock at the work because he thought it was going to be a minor bridge just as was done but this has been a different one.
MP Dorcas Affo-Toffey said her core mandate is to provide better lives for her constituents.
She said when she commenced the project, people thought she would not be able to do it but she took the courage and completed the project.
Madam Affo-Toffey said "it was a bridge that almost everyone in the area commute and so it was their headache to have it constructed".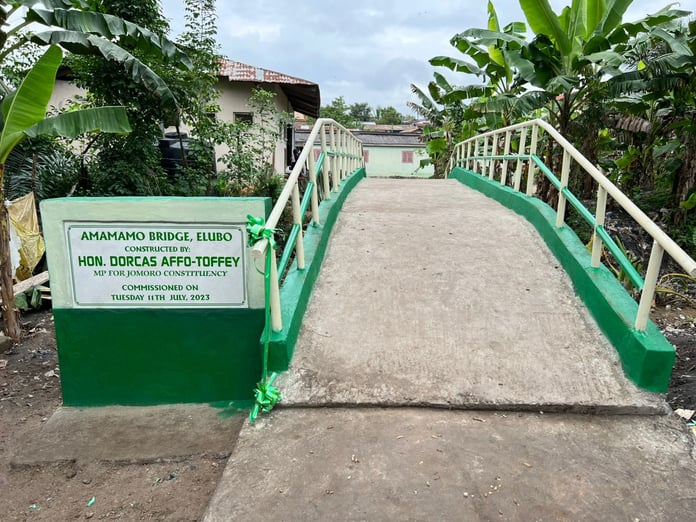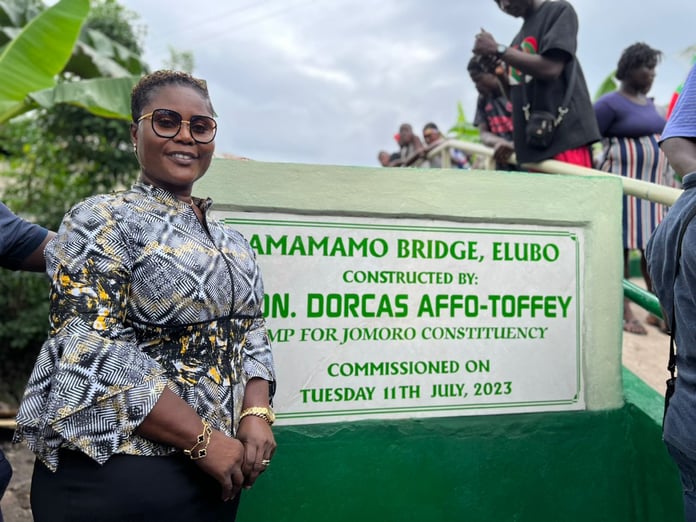 She said she hopes to do more for the constituents but her court case has drained her financially but that notwithstanding, she would do her best for the constituency as the MP.
She also promised to continue to touch the lives of her constituents and therefore they should keep faith in her by re-electing her to continue to serve them.