<![CDATA[
Nobody said replacing Cristiano Ronaldo would be easy, but Real Madrid may just have the talent to pull it off. The Portugal star left the Blancos last month, 
sensationally joining Juventus in a €100 million (£88m/$117m) transfer 
. Madrid have been linked with a number of big-money replacements for Ronaldo but on Saturday, ironically against Juventus, the Blancos showed they may not need to break the bank for the likes of Eden Hazard or Neymar this summer. The Blancos were disjointed and devoid of ideas for much of the first half at FedEx Field outside of Washington D.C., falling behind through a Dani Carvajal own goal. But just before half-time of the International Champions Cup match, Gareth Bale provided evidence of his ample quality – and perhaps of the likelihood of a more significant role in 2018-19. The Welshman picked up a loose clearance at the top of the box and rifled in a quickly taken half-volley inside the far post to level the score. Following Madrid's Champions League final victory over Liverpool in May, both Bale and Ronaldo indicated they were considering a Bernabeu exit in the summer. Ronaldo, of course, followed through, making a sensational move to Madrid's opponents on Saturday. The Portugal star's exit cleared the way for Bale to potentially play a much bigger role than he did last term, when he was an occasional starter under Zinedine Zidane even in the periods when he was healthy.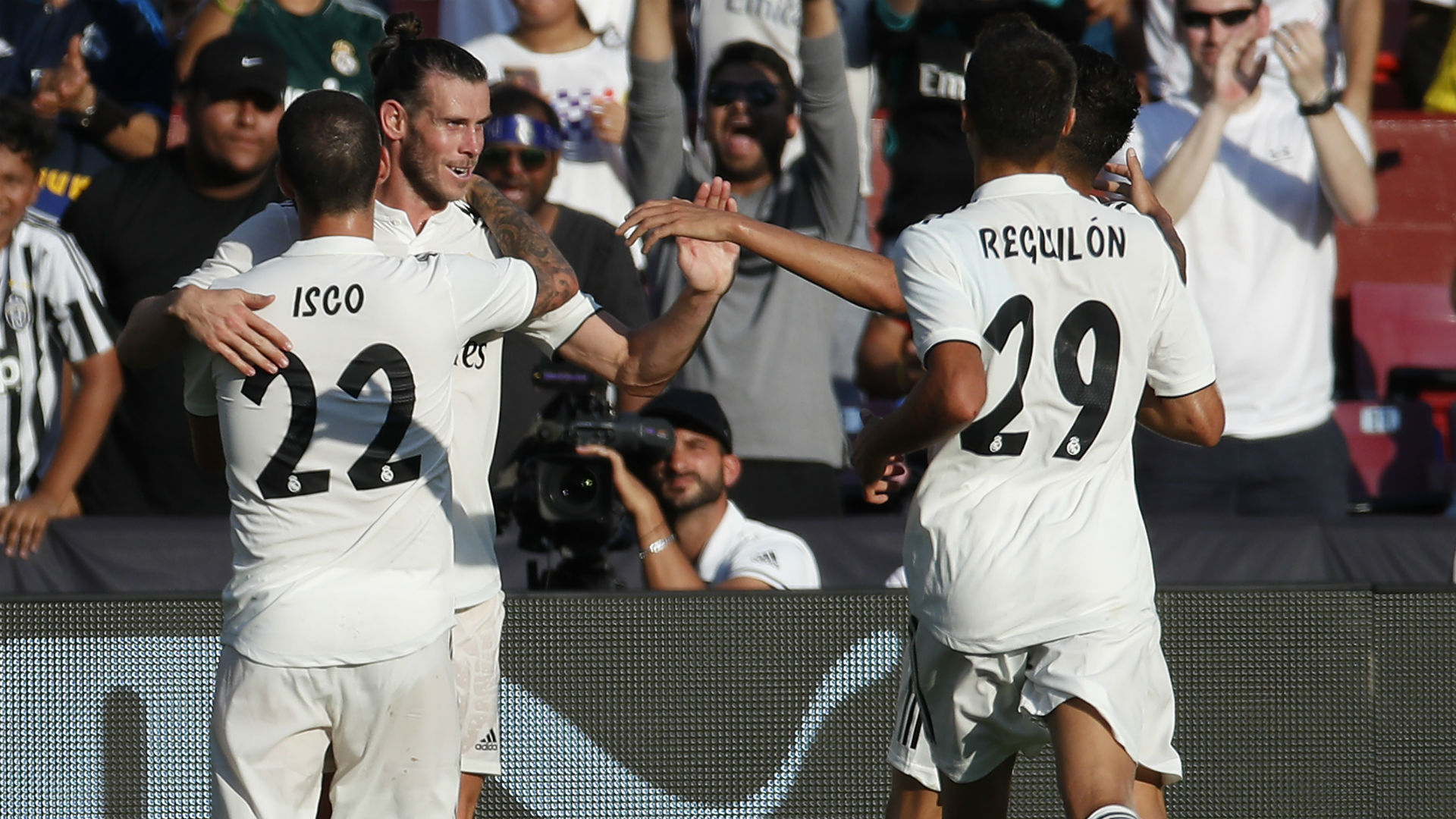 With rumoured moves for Hazard, Neymar or Kylian Mbappe yet to materialise, the Welshman looks poised to step up into a leading role this season; heath permitting of course. Bale was taken off at half-time, after which Marco Asensio and Vinicius Junior took over. The duo came in off the bench and immediately combined for a counter-attacking goal just after the break, with the Spain international providing the finish from the Brazilian teenager's pass. Asensio, playing in an unfamiliar false nine position, grabbed his second goal just 10 minutes later on a neat turn and sliding finish in the box. The 22-year-old has been tipped as a potential world star for much of the past two years. He's shown plenty of flashes, but he could make a leap in 2018-19 with more playing time likely available. Vinicius, meanwhile, 
only just joined the Blancos from Flamengo in his native Brazil 
. The 18-year-old wowed the crowd at FedEx with his tremendous skills and burst of pace, looking every bit a player who can be an impact sub for Madrid this season. Following the game Madrid manager Julen Lopetegui didn't address his club's search for a Ronaldo replacement, but did praise his club's stars on the night. "I don't talk about players who don't belong to Real Madrid," Lopetegui said at his press conference. "What I can say is that Marco and [Bale and Vinicius] were excellent today. Marco was excellent playing a position he doesn't normally play. He did it quite well as did the others and overall I'm extremely happy."
Madrid went on to win 3-1 
and they may have earned something far more important than an ICC victory in the process. If the Blancos don't break the bank to replace Ronaldo, Lopetegui knows he might just have the squad already at his disposal to overcome the Portuguese's absence.
Source: goal.com
]]>