<![CDATA[[caption id="attachment_87884" align="aligncenter" width="800"]
Rafael Nadal finally sealed victory on his fifth match point[/caption]
World number one Rafael Nadal won an 11th French Open title by beating Austrian Dominic Thiem in straight sets.
Nadal, 32, won 6-4 6-3 6-2 to earn his 17th Grand Slam, three adrift of Roger Federer's all-time men's record. The Spaniard edged an intense opening set, tightening his grip in the second. And despite having cramp in the third he increased the tempo further, beating Thiem in his first major final when the 24-year-old returned long. "It's a dream to win 11 times," Nadal said. "It was important to play the way I did. It was a tough moment when I got cramp. He is a player who pushes you to the limit." The victory means the past six Grand Slam titles have been won by either Nadal or Federer with the next generation of players finding it hard to break the veterans' stranglehold on the game. Nadal is the only second player in history to win the same Grand Slam on 11 occasions after Margaret Court, who won 11 Australian Open titles between 1960 and 1973. However, it was not all smooth for Nadal, who missed four match points on his own serve before clinching victory when Thiem went long on the fifth. Nadal dropped his racquet at the baseline in celebration before turning to his box and raising both hands skywards.
Favourite Nadal at his relentless and destructive best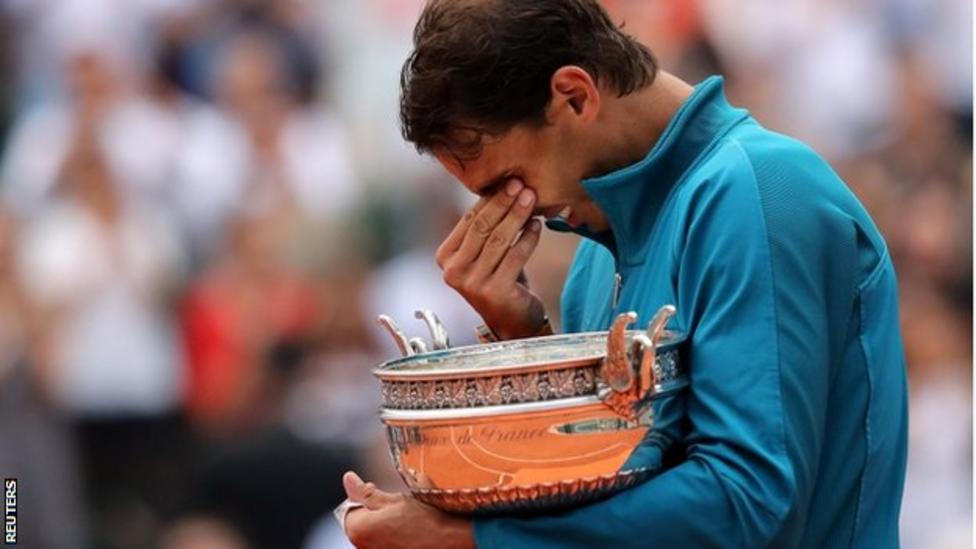 The Spaniard had been the hot favourite to win the second Slam of the year, after warming up with three clay-court titles in Monte Carlo, Barcelona and Rome. The Majorcan has an air of invincibility at Roland Garros, losing only twice in 87 matches since making his debut in 2005, and again he delivered on his favourite stage. He had breezed through his opening four matches without dropping a set – extending his own personal best to 37 consecutive sets here – though falling short of Bjorn Borg's all-time record of 41 by losing the opener of his quarter-final against Diego Schwartzman. That was about as disheartening as it got for the world number one. Against seventh seed Thiem he was at his destructive best, using his athleticism and mental resilience to wear the Austrian down with his relentless shot-making. Thiem, playing in his first Grand Slam final, simply had few answers to Nadal's brilliance.
Nadal stamps authority from the start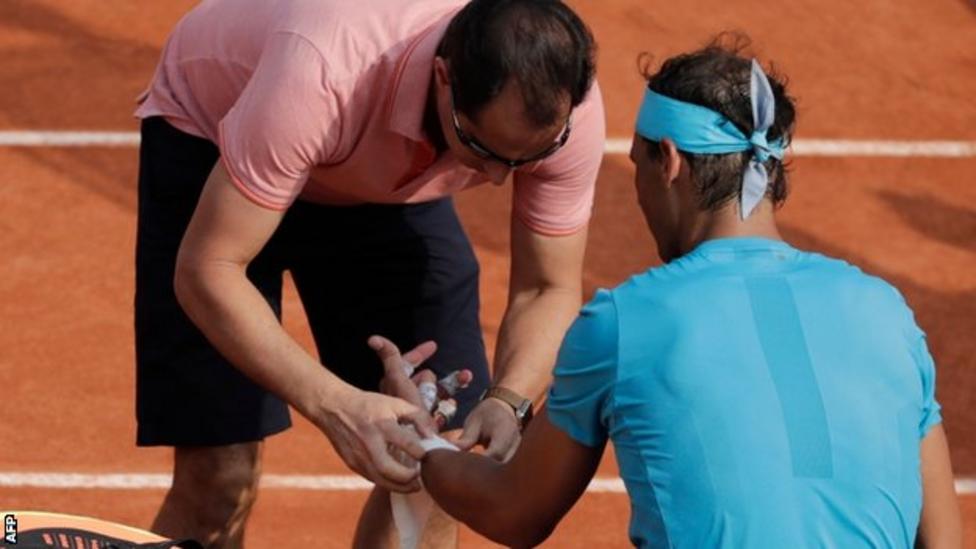 Nadal had made slow starts to his service games against Schwartzman and in his semi-final with Juan Martin del Potro, but imposed himself straight away against Thiem by holding to love in the opening game and backing it up with a break in the next. Thiem did break back in the third game, but had to fend off more chances for Nadal on his own serve – particularly in a 13-minute sixth game – before the Spaniard struck in the final game of the set. Nadal also stamped his authority early in the second set, breaking again at the first opportunity, as Thiem started to become frustrated. The Austrian had a chance to break back for 4-3, but his opponent saw it off with a backhand down the line and closed out the set as the inevitable loomed. Only one player had ever beaten Nadal from two sets down at a Grand Slam – Fabio Fognini at the 2015 US Open. Thiem never looked like becoming the second. Nadal refused to ease off at the start of the third, missing five break points in two long service games for the Austrian, who eventually buckled with a wide forehand to trail 2-1. Nadal broke again for a 5-2 lead, then served out – after suffering cramp in his left arm and missing those match points – to win in two hours and 42 minutes.
Thiem falls short in quest for first Slam
Thiem has long been heralded as a future Grand Slam champion – with the French Open seemingly his best chance on his favoured surface. The Austrian is the only man to have beaten Nadal on clay in the past two years, winning in two sets in the Masters events – the tier below the Grand Slams – in Rome and Madrid. But this was over best-of-five sets. And this was Roland Garros. Thiem showed a few nerves as he failed to find his rhythm in the opening two games and, after he briefly started to look like he could turn it into a contest, was eventually overwhelmed by the favourite. The world number eight started making mistakes on his backhand – usually his most potent weapon – as it disintegrated under heavy pressure. It left him standing with his hands on hips after losing energy-sapping points, wondering what more he had to do to break down Nadal. "What you have done – to win this tournament 11 times – is one of the greatest things in sport," Thiem told Nadal on court afterwards. "I hope I soon get another chance here – maybe against you. But it has still been a great two weeks for me here."
'Another relentlessly brilliant performance' – Analysis
BBC tennis correspondent Russell Fuller
The one set which Nadal did lose in Paris this fortnight turned out to be merely a footnote. This was another relentlessly brilliant performance: he won the first six points of the match, and at no stage did he offer Thiem any real encouragement in his first Grand Slam final. Nadal's serve was only broken once, and he granted a measly three break points. He exercises near total domination on clay and will now head to Wimbledon, via the Queen's Club, to resume his dual with Roger Federer. The Swiss is back in action in Stuttgart this week after an 11-week break from the Tour: Federer has 20 Grand Slams, but it feels as if Nadal – who is five years younger – is breathing down his neck once more.
Nadal's 11 French Open final victories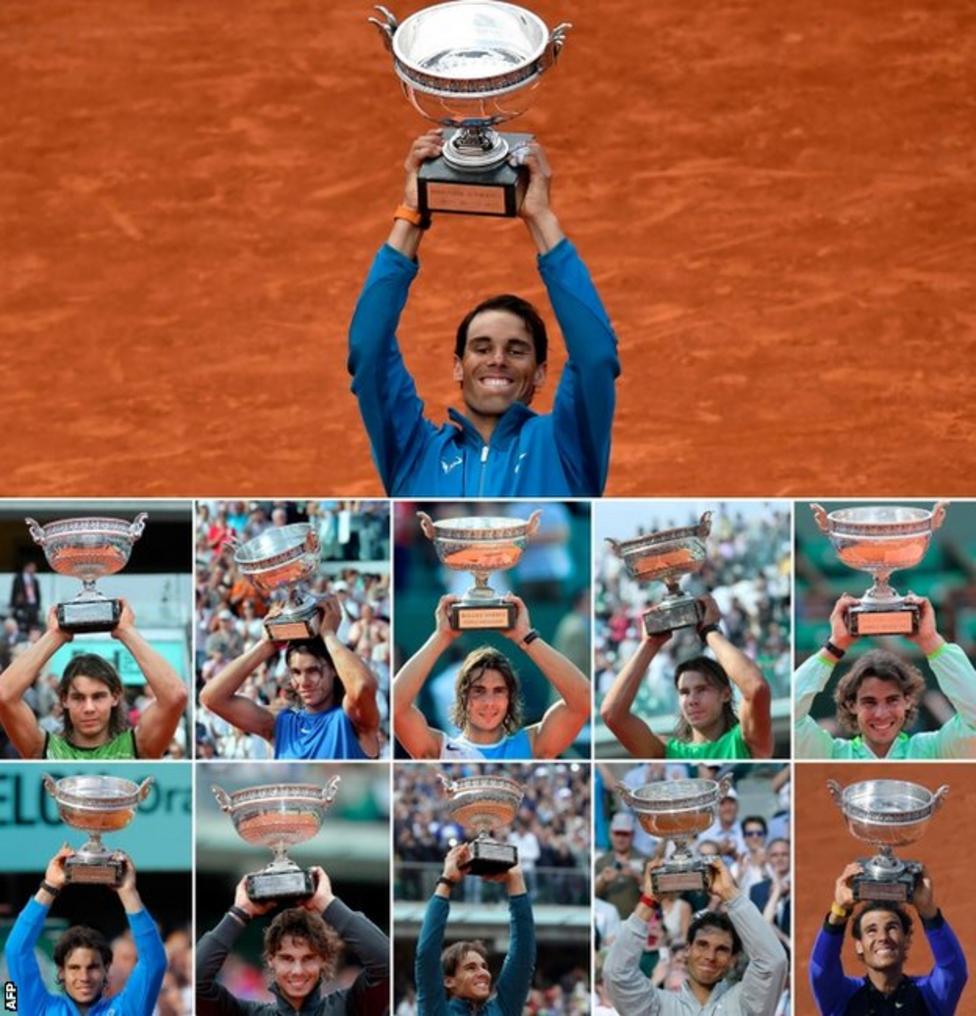 2005 – beat Mariano Puerta (Argentina) 6-7 (6-8) 6-3 6-1 7-5
2006 – beat Roger Federer (Switzerland) 1-6 6-1 6-4 7-6 (7-4)
2007 – beat Roger Federer (Switzerland) 6-3 4-6 6-3 6-4
2008 – beat Roger Federer (Switzerland) 6-1 6-3 6-0
2010 – beat Robin Soderling (Sweden) 6-4 6-2 6-4
2011 – beat Roger Federer (Switzerland) 7-5 7-6 (7-3) 5-7 6-1
2012 – beat Novak Djokovic (Serbia) 6-4 6-3 2-6 7-5
2013 – beat David Ferrer (Spain) 6-3 6-2 6-3
2014 – beat Novak Djokovic (Serbia) 3-6 7-5 6-2 6-4
2017 – beat Stan Wawrinka (Switzerland) 6-2 6-3 6-1
2018 – beat Dominic Thiem (Austria) 6-4 6-3 6-2
Source: BBC
]]>