<![CDATA[[caption id="attachment_78335" align="aligncenter" width="660"]
Riot police were called in as the protests spread through the multicultural Lavapiés district Photo: AFP/GETTY IMAGES[/caption]
Migrants have clashed with Spanish police in Madrid after the death of a Senegalese street vendor who they say had been chased by officers.
Protesters set fire to a motorbike and dustbins and threw stones in the Lavapiés district. Officials say Mame Mbaye Ndiaye, said to be in his mid-30s, was found unconscious and died of a heart attack. At least 19 people were lightly injured in the clashes, officials said. Ten police officers were also hurt. The clashes are said to have lasted from 21:00 until 01:30 local time (20:00-00:30 GMT), spreading from street to street. Bus stops and some bank branches were damaged, and dustbins set on fire. Earlier this month, a Senegalese street vendor was shot dead in the Italian city of Florence, sparking large protests by the Senegalese community there. Protesters in Spain said Mr Ndiaye had arrived in the country by boat 12 years ago. He had reportedly worked as a vendor illegally and sent money back to his family. "Municipal police arrived and chased him from Sol to Lavapiés with a motorbike," said Modou, a 25-year-old vendor from Senegal. "In the end, he died here," he told the AFP news agency.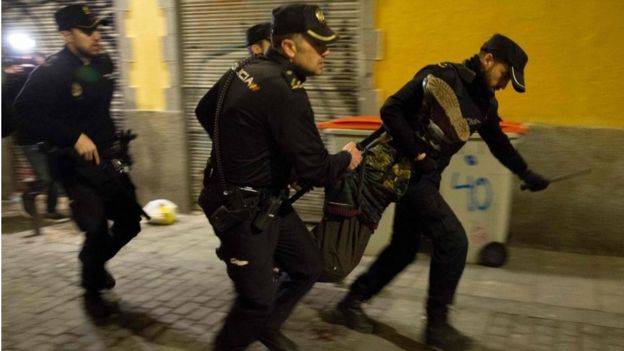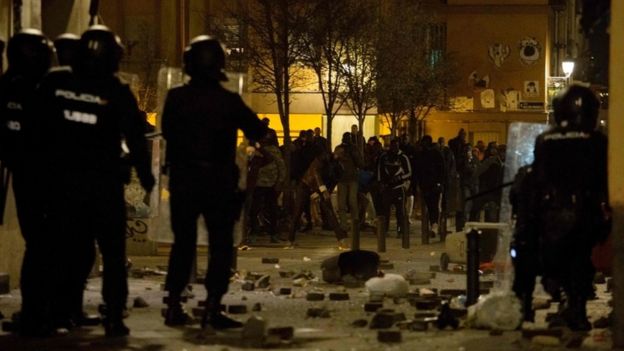 Six people were arrested during the protests, a spokesperson for Madrid Police told Spanish news agency Efe. Madrid Mayor Manuela Carmena said the city would investigate thoroughly what happened and respond accordingly.
Source: BBC
]]>