<![CDATA[[caption id="attachment_78393" align="aligncenter" width="660"]
This is the first time President Trump has been directly involved in the case photo: GETTY IMAGES[/caption]
Lawyers for US President Donald Trump are seeking $20 million (£14m) in damages from a porn actress he says broke a non-disclosure deal signed before the 2016 elections.
They argue Stormy Daniels breached the agreement at least 20 times. The actress claims she had an affair with Mr Trump that began in 2006 and lasted several months. The president's lawyer, Michael Cohen, has said he paid her $130,000 of his own money to remain silent. This is the first time President Trump has become directly involved in the case. He "vehemently denies" the alleged affair. The lawyer acting for Stormy Daniels, whose real name is Stephanie Clifford, this month filed a lawsuit aiming to scrap the non-disclosure agreement. Michael Avenatti said the filing by the law firm representing the president were "unprecedented" and "yet another bullying tactic" against her. The filing also sought a change of venue from state to federal court.
Ms Clifford says the 2016 agreement is invalid
 as Mr Trump did not sign it. She first made claims of a sexual relationship with Mr Trump in 
a 2011 interview with InTouch magazine
. The story came back into the public eye earlier this year when reports emerged she was paid not to discuss the alleged affair in the run-up to the 2016 election.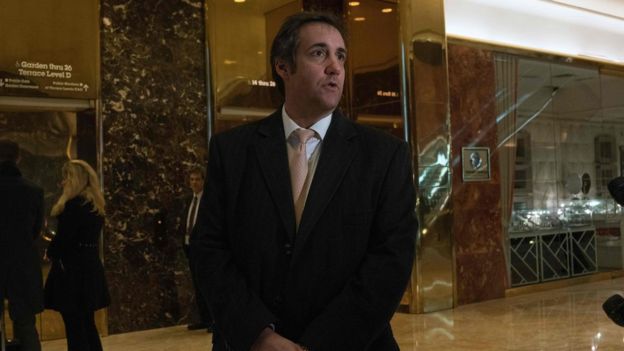 Mr Cohen has acknowledged paying her $130,000 (£95,000) privately, but said neither Mr Trump nor his company was a party to the transaction. A similar request made on Mr Trump's behalf came from another lawyer, Charles Harder – best known for his handling of 
the Hulk Hogan sex tape case against Gawker
 and for defending Melania Trump in a suit against the Daily Mail. This motion says: "Mr. Trump intends to pursue his rights to the fullest extent permitted by the law." It is thought that moving the case to a federal court would help keep the case behind closed doors in arbitration – a view expressed by Ms Clifford's lawyer in a tweet. Mr Avenatti alleged on Friday that the porn actress had been physically threatened, but did not give further details. Ms Clifford has recorded an interview with the CBS network's 60 Minutes programme to air later this month about her fight to void the agreement. A CrowdJustice campaign to raise funds for her legal fees has already raised almost $200,000.
Mr Trump has also obtained a restraining order
 against the adult film actress to try to prevent her sharing "confidential information" about their alleged relationship.
Source: BBC
]]>