<![CDATA[
US President Donald Trump has cancelled a summit with North Korean leader Kim Jong-un, saying the world had "lost a great opportunity for lasting peace".
He said his decision was because of "tremendous anger and open hostility" in a recent North Korean statement. In a letter to Mr Kim, he said he was still looking forward to meeting him "some day". It came hours after 
North Korea said it had dismantled tunnels at its only nuclear test site
. Foreign reporters at the Punggye-ri site in the north-east said they had witnessed a huge blast.
What did Mr Trump say?
Mr Trump said he had been looking forward to the now-cancelled summit in Singapore on 12 June. "I was very much looking forward to being there with you. Sadly, based on the tremendous anger and open hostility displayed in your most recent statement, I feel it is inappropriate, at this time, to have the long-planned meeting," Mr Trump said. "You talk about your nuclear capabilities, but ours are so massive and powerful that I pray to God they will never have to be used," he added. Mr Trump ended his letter by saying Mr Kim should call him if he changed his mind. "The world, and North Korea in particular, has lost a great opportunity for lasting peace and great prosperity and wealth. This missed opportunity is a truly sad moment in history," he said. Earlier on Thursday, North Korean official Choe Son-hui dismissed remarks by US Vice-President Mike Pence – who had said North Korea "may end like Libya" – as "stupid". Ms Choe, who has been involved in several diplomatic interactions with the US over the past decade, said the North would not "beg" for dialogue and warned of a "nuclear showdown" if diplomacy failed.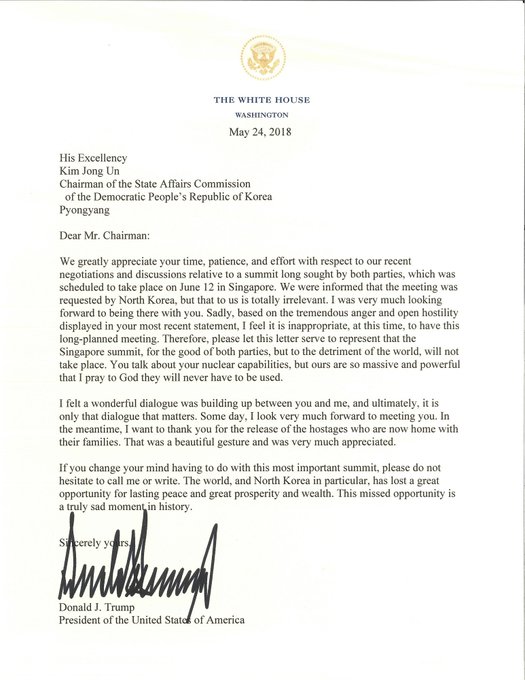 ---
Diplomacy left in disarray
Analysis by Jonathan Marcus, BBC diplomatic correspondent
The Trump administration insists that North Korea was not responding sufficiently in the summit preparations, raising doubts that the meeting would be able to achieve a positive outcome. The big question is what happens now? Prior to the thaw in relations between North and South Korea that began the process that led to the summit date, wild rhetoric was being exchanged between Pyongyang and Washington raising serious fears of a renewed conflict on the Korean Peninsula. Will North Korea now resume its long-range ballistic missile testing? Will the war of words be renewed? Or might there be a slim chance of some kind of diplomatic process being maintained?
Source: BBC
]]>