Wheat prices have risen sharply on global markets after Russia said it would treat ships heading for Ukrainian ports as potential military targets.
Moscow pulled out of a UN deal on Monday that ensured safe passage for grain shipments crossing the Black Sea.
For the past three nights Russia has bombarded Ukraine's grain facilities in Odesa and other cities.
Moscow also warned that from Thursday any ships going there would be seen as siding with "the Kyiv regime".
White House spokesman Adam Hodge suggested Russia was planning to hit civilian ships and blame Ukraine.
Russia had laid more sea mines in the approaches to Ukrainian ports, he said, as part of a co-ordinated Russian effort to justify attacking civilian ships.
The Kremlin did not immediately respond to the allegation.
Wheat prices on the European stock exchange soared by 8.2% on Wednesday from the previous day, to €253.75 (£220; $284) per tonne, while corn prices were up 5.4%.
US wheat futures jumped 8.5% – their highest daily rise since just after Russia's February 2022 invasion of Ukraine.
Earlier President Vladimir Putin said he would return to the international grain agreement immediately if his demands were met. They include lifting sanctions on sales of Russian grain and fertiliser and reconnecting Russia's agricultural bank to a global payment system.
Russian air strikes on the Black Sea coastal cities meanwhile continued for a third night, leaving more than 20 people wounded in Odesa and Mykolaiv.
Mykolaiv regional governor Vitaliy Kim said 19 people had been hurt in the regional capital, including children. Apartment blocks were targeted and in one building the second and top floor were partially destroyed.
Several people were also wounded in Odesa, when a four-storey building was badly damaged.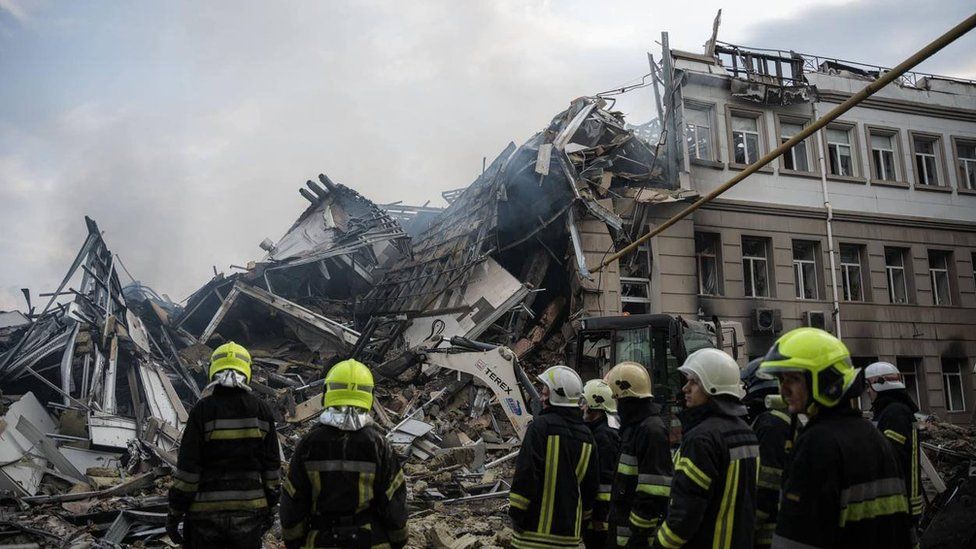 Russian-occupied Crimea was also hit overnight, according to its Russian-appointee leader Sergei Aksyonov.
A teenage girl was killed when a drone hit four administrative buildings in the north-west of the peninsula.
Crimea has been hit on three consecutive days. A suspected Ukrainian drone attack from the sea damaged a bridge from the occupied peninsula to southern Russia on Monday. Part of a key motorway was also shut on Tuesday because of explosions at a nearby munitions depot.
Ukraine's President Volodymyr Zelensky has accused Russia of deliberately targeting grain export infrastructure and putting vulnerable countries at risk.
Agriculture Minister Mykola Solskyi said strikes had destroyed 60,000 tonnes of grain and damaged considerable parts of the grain export infrastructure.
The defence ministry in Moscow said that from Thursday all vessels sailing on the Black Sea to Ukrainian ports would be regarded as "potential carriers of military cargo" and that the ships' "flag states… will be considered to be involved in the Ukrainian conflict on the side of the Kyiv regime".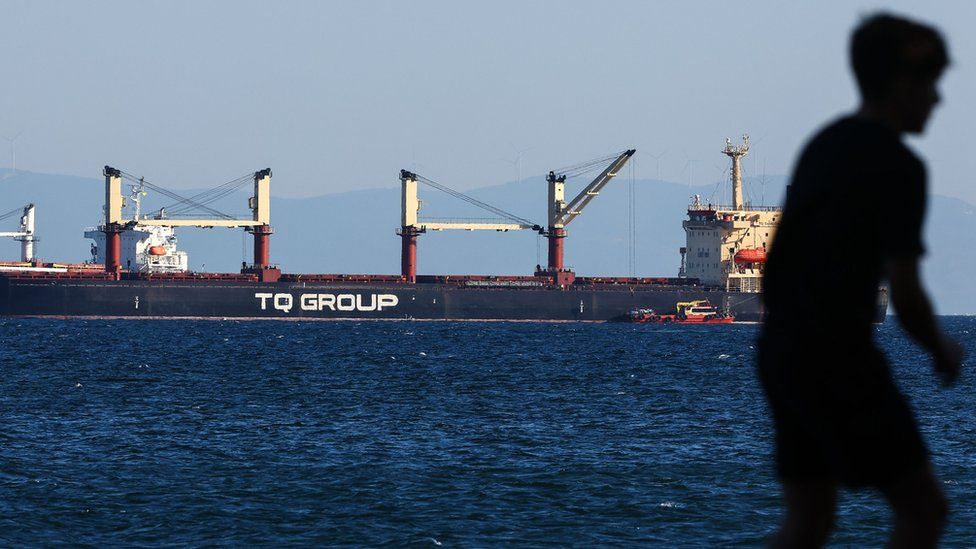 On Wednesday Mr Putin accused the West of using the grain deal as "political blackmail". Moscow has accused Ukraine of using the Black Sea grain corridor for "combat purposes".
Ukraine's options for exporting grain by rail are also very limited: rail capacity is smaller than shipping volumes and several EU countries in Eastern Europe are blocking Ukrainian grain, in order to protect their own farmers.
Marex Capital analyst Charlie Sernatinger said Russia's threatened escalation could "cut all of the waterborne grain shipments off from the Black Sea, both Russian, and Ukrainian", which would cause a similar situation to that at the start of the war.
Ukrainian MP Oleksiy Goncharenko called on the UK, US, France and Turkey to protect the grain ships with military convoys and provide Odesa with air defences.
"Clearly Putin has an aim to disrupt food security and cause a peak in world food prices, which in the developed countries will lead to inflation, but in developing countries that will lead to social destabilisation, starvation and new waves of migrants."