<![CDATA[
Zimbabwe's President Emmerson Mnangagwa says elections will go ahead as planned on 30 July, despite what he said was an attempt on his life on Saturday.
Forty-one people were injured in the blast at a rally in the city of Bulawayo, which occurred close to Mr Mnangagwa as he was leaving the stage. Officials said security arrangements would be reviewed. The vote is the first since Robert Mugabe was ousted and Mr Mnangagwa has vowed they will be peaceful. Mr Mnangagwa said Saturday's explosion happened when an object "exploded a few inches away from me – but it is not my time". He said the violence was senseless and appealed for unity. Opposition leader Nelson Chamisa also condemned the attack, saying any political violence was "totally unacceptable". Those hurt included two vice-presidents, the Zanu-PF party chairwoman, members of a state TV crew and security personnel. The president was in Bulawayo, Zimbabwe's second city and an opposition stronghold, to campaign for his Zanu-PF party ahead of the July election. He is favourite to win the poll, but analysts say he also has enemies – both for overthrowing his former mentor, Robert Mugabe, and for being a previous enforcer of the Mugabe regime.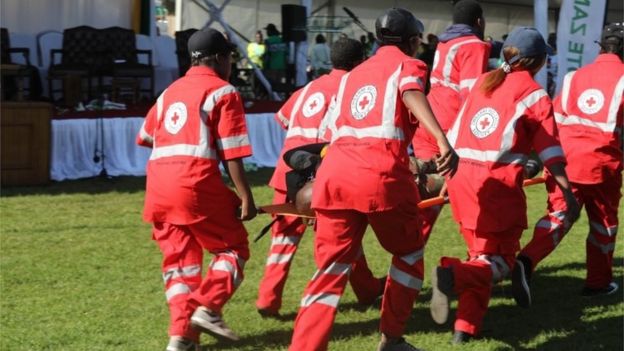 The elections are the first in Zimbabwe since Mr Mugabe was forced out after 37 years in power, and the first to be monitored by international observers since 2002. Mr Mnangagwa has said the vote will be free and fair. Campaigning has been dominated by economic issues.

Who is Emmerson Mnangagwa?
Known as "the crocodile" because of his political shrewdness – his Zanu-PF faction is "Lacoste"
Received military training in China and Egypt
Tortured by Rhodesian forces after his "crocodile gang" staged attacks
Helped direct Zimbabwe's war of independence in the 1960s and 1970s
Became the country's spymaster during the 1980s civil conflict, in which thousands of civilians were killed, but has denied any role in the massacres, blaming the army
Accused of masterminding attacks on opposition supporters after 2008 election
Says he will deliver jobs, and seen as open to economic reforms
Source: BBC
]]>